Back to the main page of this article
Victorian cross, beautiful elaborated neo Etruscan gold crucifix from Italy
A touch of history ...
There are crosses and there are crosses but this one is one of the nicest in its sort that we have ever come along. Skilfully crafted with filigree and granules, a real joy for the eyes. The corpus is 3-dimensionally worked out and the aureole is also made in the finest filigree and granules technique. It comes in its original box with the text: "Luigi Freschi - Via Condotti - 55, 55a, 56 57, Corso Umberto 1º 401 - ROMA".
Antique jewelry object group: pendants

Country of origin: Italy

Style: Victorian
(more info on styles)

Style specifics: Neo Etruscan

Period: ca. 1880
(events and facts in 1880)

Source of inspiration: Etruscans

Theme: crucifixion - In the Roman era crucifixion was a very common way of executing despised criminals and slaves, and Christianity still was an illegal religion. By sacrificing himself, Christ liberated man from Adam's sin that had been inherited by the entire humanity. Christ has been depicted leaning his head on his right shoulder, while wearing the subligaculum (a small strip of cloth) around the waist and the crown of thorn on his head.

Material: 18K yellow gold
(more info on precious metals)

Technique: This jewel features a filigree decoration, which is in fact thin golden wire twisted into refined motifs, in this case elegant little balls. You can also notice the use of granulation on this piece. Granulation is a technique where the goldsmith uses very small balls (granules) of metal, which are not soldered to the piece but welded. Both techniques demand very high skills and precision from the maker.

Hallmarks: No trace.
(more info on hallmarks)

Condition: excellent condition
(more info on our condition scale)

Dimensions: width 2.83 cm (1.11 inch)

Weight: 7.90 gram (5.08 dwt)

Reference Nº: 09343-0188


See also our:
victorian jewelry, victorian pendants, neo-etruscan jewelry, pendants, crosses, jewelry with filigree & granules, latest acquisitions,
antique jewelry, estate jewelry, vintage jewelry or modern jewelry
Jewelry with birthstones (or month stones) for:
January - February - March - April - May - June - July
August - September - October - November or December.


Additional information:
jewelry glossary - wall of fame - visit us in Antwerp - subscribe to our mailinglist.


What is antique jewelry? - What is estate jewelry? - What is vintage jewelry?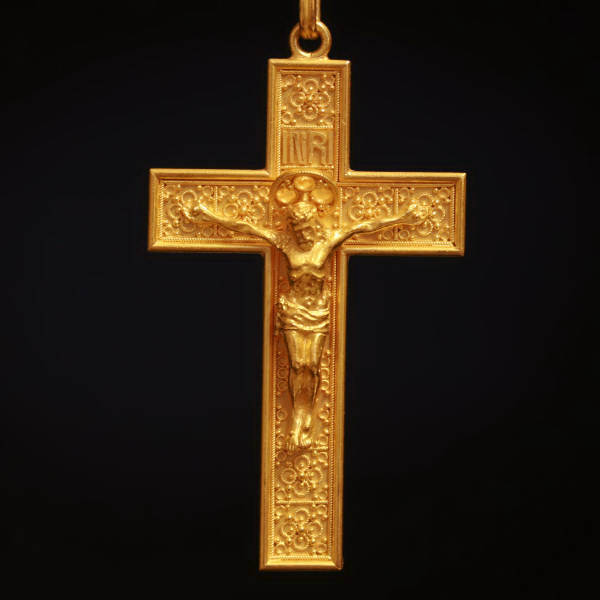 Victorian cross, beautiful elaborated neo Etruscan gold crucifix from Italy (image 1 / 7)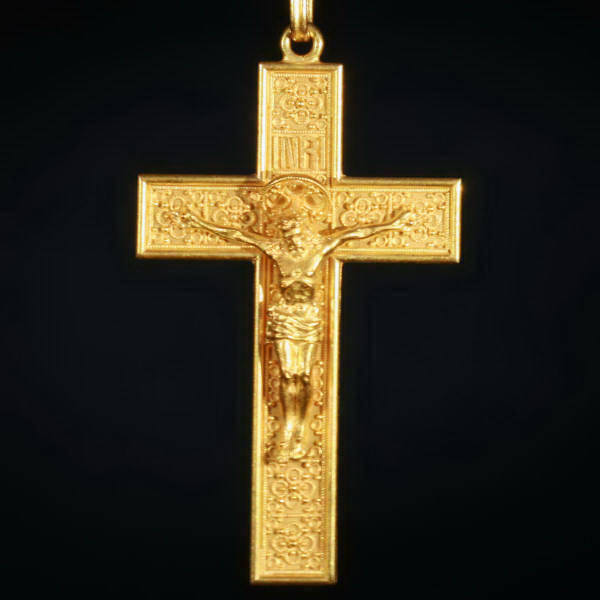 Victorian cross, beautiful elaborated neo Etruscan gold crucifix from Italy (image 2 / 7)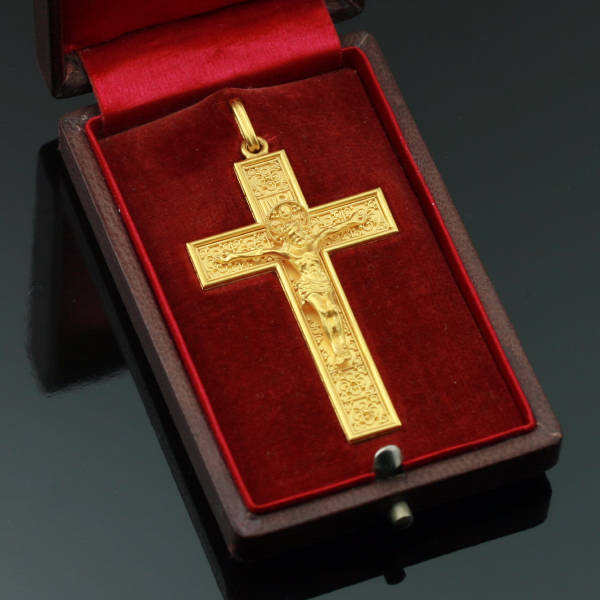 Victorian cross, beautiful elaborated neo Etruscan gold crucifix from Italy (image 3 / 7)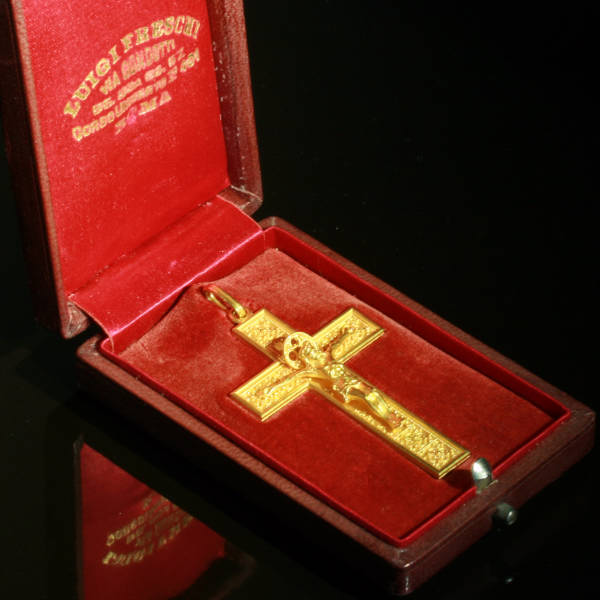 Victorian cross, beautiful elaborated neo Etruscan gold crucifix from Italy (image 4 / 7)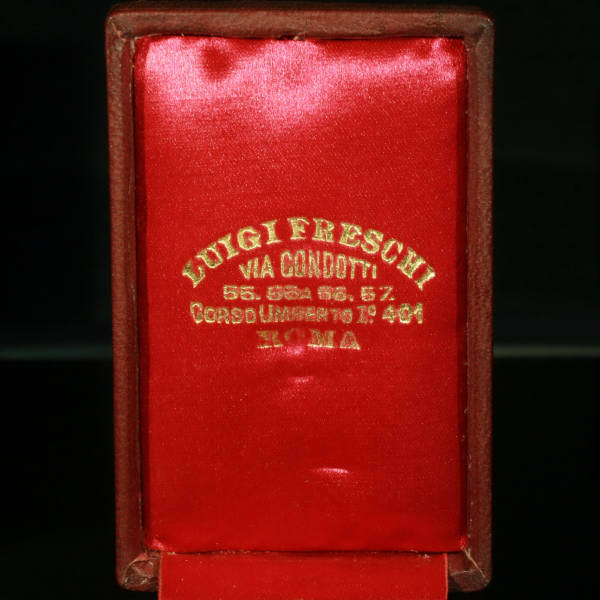 Victorian cross, beautiful elaborated neo Etruscan gold crucifix from Italy (image 5 / 7)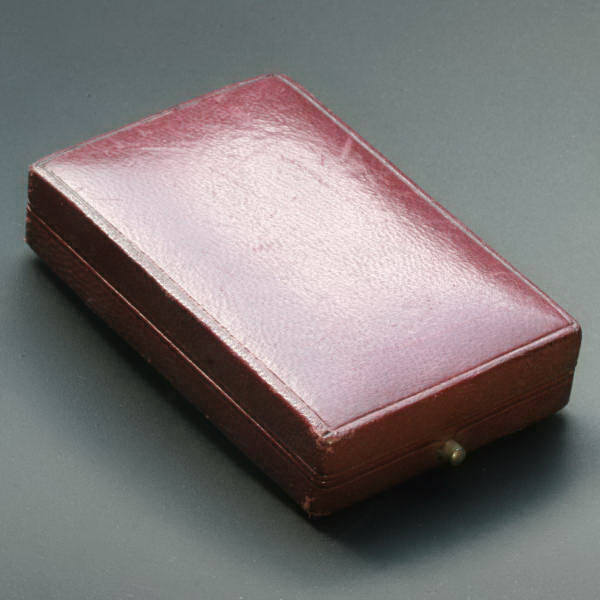 Victorian cross, beautiful elaborated neo Etruscan gold crucifix from Italy (image 6 / 7)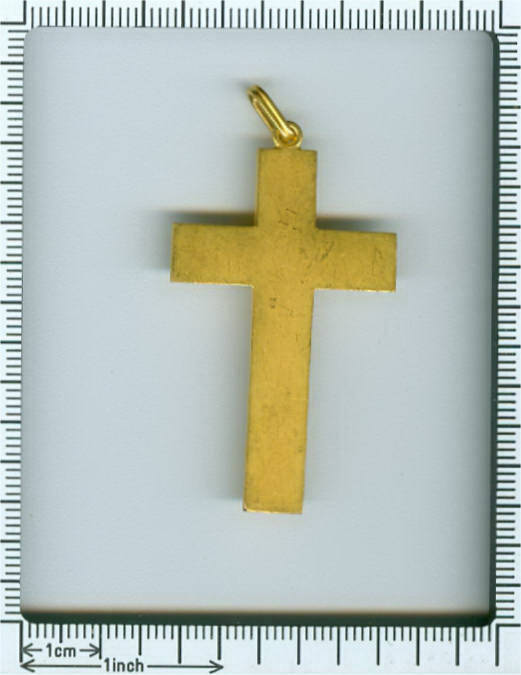 Victorian cross, beautiful elaborated neo Etruscan gold crucifix from Italy (image 7 / 7)