Back to the main page of this article
Victorian poison ring with blue enamel and rose cut diamonds with hidden place
A touch of history ...
Antique jewelry object group: ring

Condition: excellent condition
- (more info on our condition scale)

Country of origin: Although it does not carry any legible control marks we believe this to be of Belgian origin.

Style: Victorian - Victorian decorative arts refers to the style of decorative arts during the Victorian era. The Victorian era is known for its eclectic revival and interpretation of historic styles and the introduction of cross-cultural influences from the middle east and Asia in furniture, fittings, and Interior decoration. Victorian design is widely viewed as having indulged in a regrettable excess of ornament. The Arts and Crafts movement, the aesthetic movement, Anglo-Japanese style, and Art Nouveau style have their beginnings in the late Victorian era.
- See also: Victorian or more info on styles

Period: ca. 1870
- (events and facts in 1870)

Material: 18k yellow gold and silver, see also: The silver on gold technique
- (more info on precious metals)

Technique: Enamelling is an old and widely-adopted technology. The ancient Egyptians applied enamels to pottery and stone objects. The ancient Greeks, Celts, Russians, and Chinese also used enameling processes on metal objects. Enamel is the colorful result of fusing powdered glass to a substrate by firing, usually between 750 and 850 degrees Celsius. The powder melts and flows and hardens to a smooth, durable vitreous coating on metal, glass or ceramic. According to some sources, the word enamel comes from the High German word smelzan (to smelt) via the Old French esmail. Used as a noun, "an enamel" is a usually small decorative object, coated with enamel coating, such as a champlevé or a cloisonné (different techniques).

Extra information: Poison ring - A type of finger ring having a hinged bezel that conceals a compartment said to have held in poison. Although no such use has been factually established, there are historical (e.g. Hannibal's death) and literary references to such rings. It has been surmised that the compartment may usually have contained perfume or a relic.

According to info found at Wikipedia, a poison ring or pillbox ring is a type of ring with a container under the bezel or inside the bezel itself that could be used to hold poison or another substance. They became popular in Europe during the sixteenth century.

The poison ring was used either to slip poison into an enemy's food or drink, or to facilitate the suicide of the wearer in order to escape capture or torture.

Rings like this have been used throughout history to carry perfume, locks of hair, devotional relics, messages and other keepsakes, so they have also been known by other names. Artists would paint tiny portraits of loved ones, to be carried in what was called a "locket ring," which was popular during the Renaissance.

By the 17th century, jewelers were creating locket rings in the shape of caskets which served as mementos for mourners. These were called "funeral rings." Rings with compartments are also called "box" rings or "socket" rings.

The Origin of Poison Rings According to Marcy Waldie, who wrote about poison rings in the October 2001 article "A Ring to Die For: Poison Rings Hold Centuries of Secrets," from Antiques & Collecting Magazine, this type of jewelry originated in ancient days of the Far East and India. It replaced the practice of wearing keepsakes and other items in pouches around the neck. The wearing of vessel rings was so practical that it spread to other parts of Asia, the Middle East and the Mediterranean before reaching Western Europe in the Middle Ages. By then the rings were part of the "holy relic trade." (from: Wikipedia)

Diamonds: 28 rose cut diamonds and senailles . A senaille is a simplified rose cut diamond, a small diamond chip with perhaps a few polished facets. We do not have the weight of the rose cuts diamonds nor the senailles which is normal in our trade when it comes to rose cut diamonds and senailles.

Birthstones: Diamond is the birthstone (or month stone) for April.
- (more info on birthstones)

Hallmarks: No trace.
- (more info on hallmarks)

Dimensions: diameter of top of ring 1,33 cm (0,52 inch)

Weight: 3,80 gram (2,44 dwt)

Ring size Continental: 49 & 13¾ , Size US 5 , Size UK: J

Resizing: Free resizing, but because of the the way the ring is made, we cannot guarantee to make it on every size; so please ask in advance (only for extreme resizing we have to charge).
- (more info on ring sizes)

Reference Nº: 14333-0129

Copyright photography: Adin, fine antique jewelry




silver on gold jewelry, jewelry with diamond, jewelry with rose cut diamonds, latest acquisitions,
antique jewelry, estate jewelry, vintage jewelry or modern jewelry
Jewelry with birthstones (or month stones) for:
January - February - March - April - May - June - July
August - September - October - November or December.


Additional information:
jewelry glossary - wall of fame - visit us in Antwerp - subscribe to our mailinglist.


What is antique jewelry? - What is estate jewelry? - What is vintage jewelry?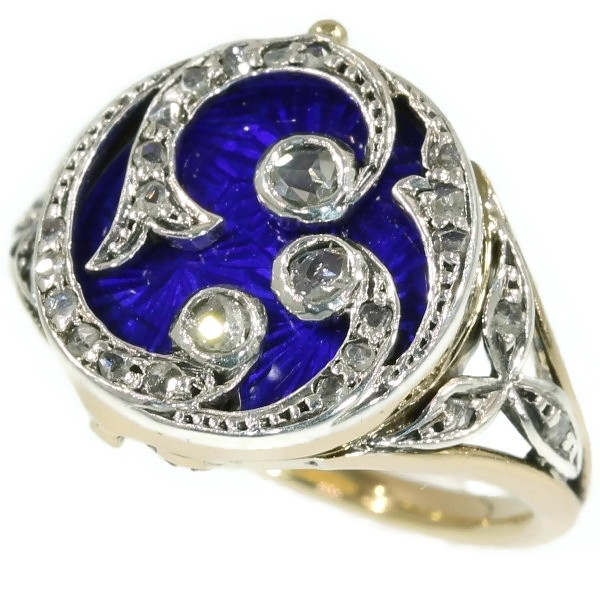 Victorian poison ring with blue enamel and rose cut diamonds with hidden place (image 1 / 18)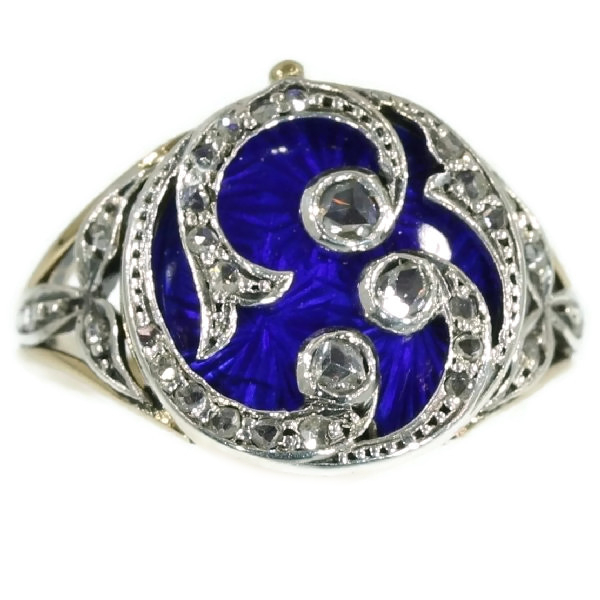 Victorian poison ring with blue enamel and rose cut diamonds with hidden place (image 2 / 18)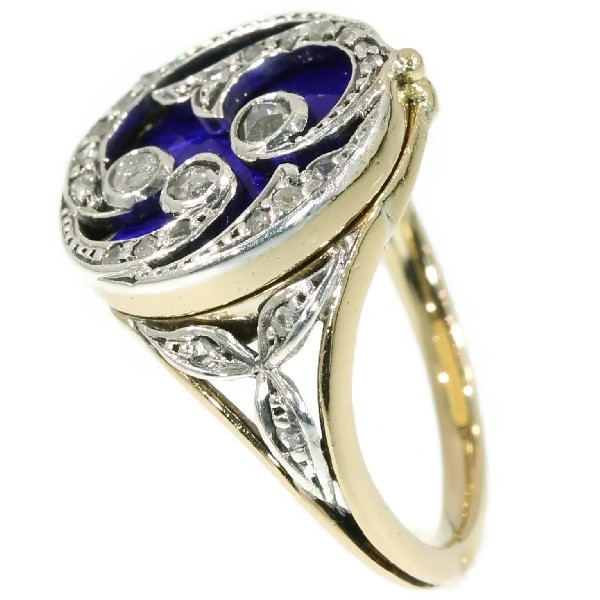 Victorian poison ring with blue enamel and rose cut diamonds with hidden place (image 3 / 18)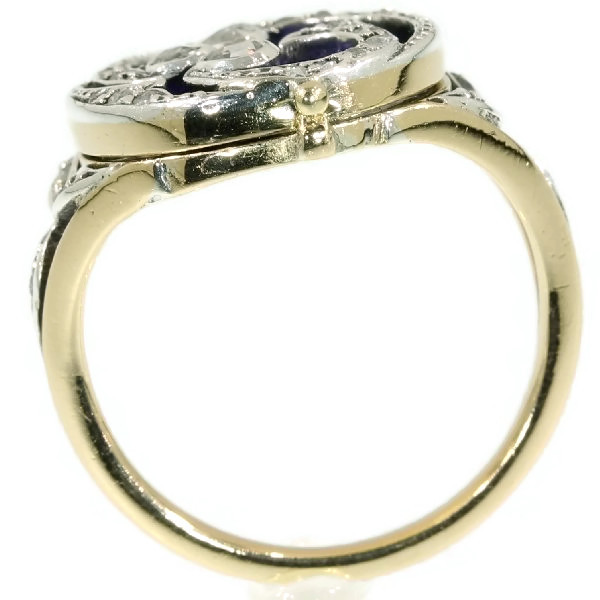 Victorian poison ring with blue enamel and rose cut diamonds with hidden place (image 4 / 18)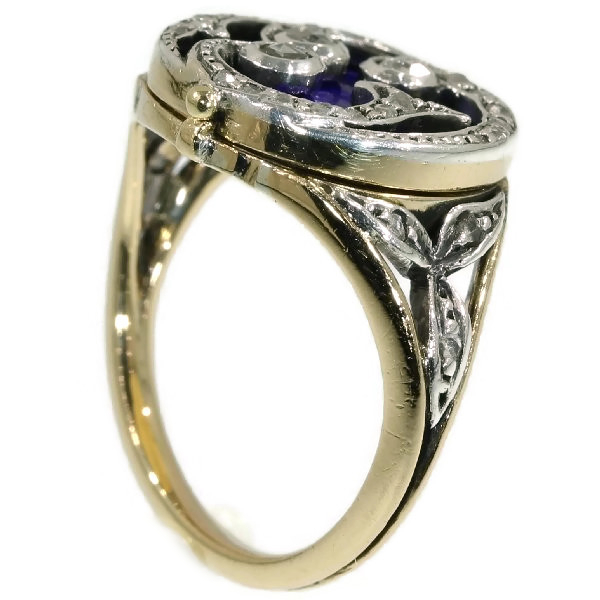 Victorian poison ring with blue enamel and rose cut diamonds with hidden place (image 5 / 18)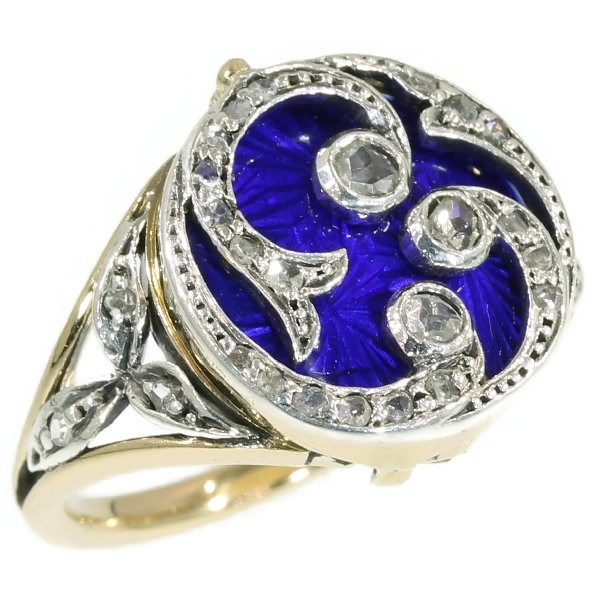 Victorian poison ring with blue enamel and rose cut diamonds with hidden place (image 6 / 18)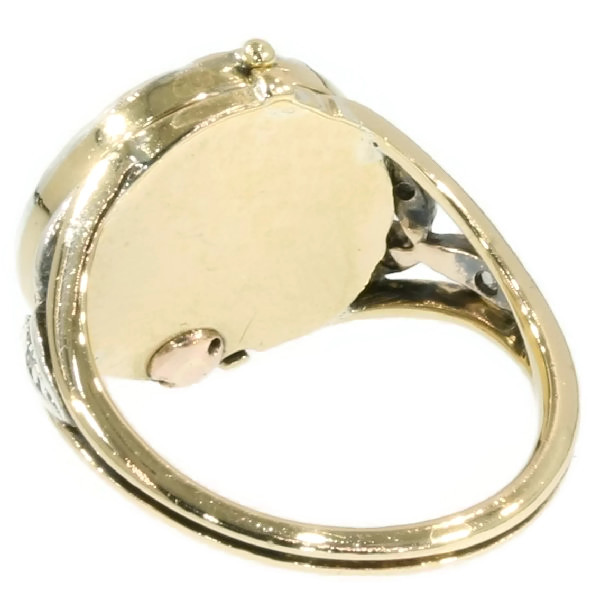 Victorian poison ring with blue enamel and rose cut diamonds with hidden place (image 7 / 18)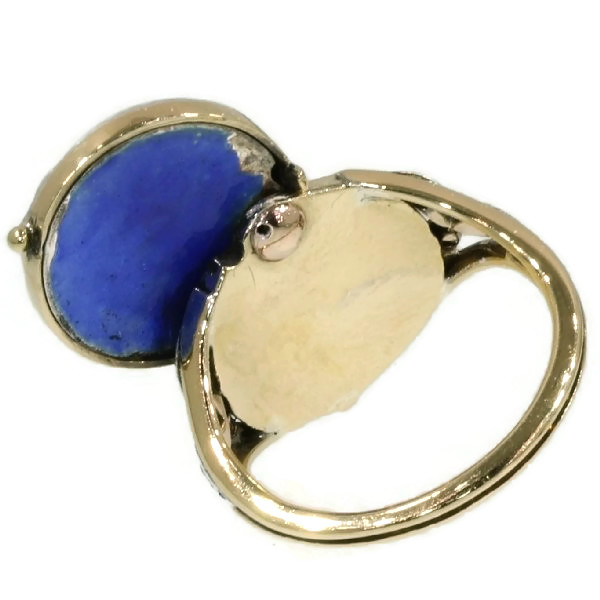 Victorian poison ring with blue enamel and rose cut diamonds with hidden place (image 8 / 18)
Victorian poison ring with blue enamel and rose cut diamonds with hidden place (image 9 / 18)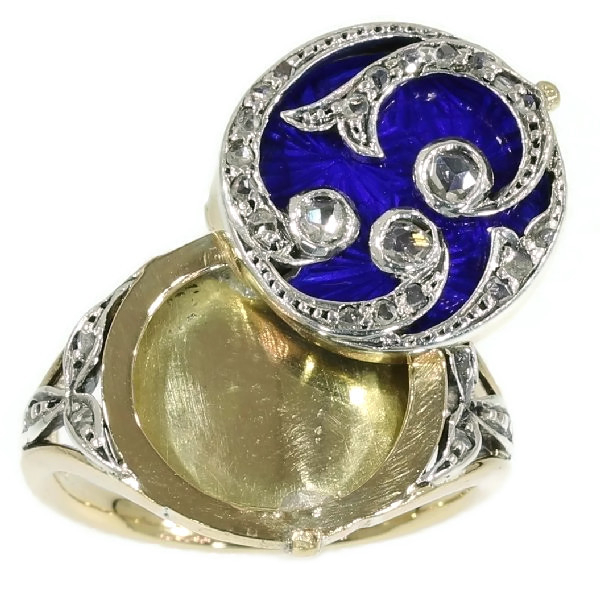 Victorian poison ring with blue enamel and rose cut diamonds with hidden place (image 10 / 18)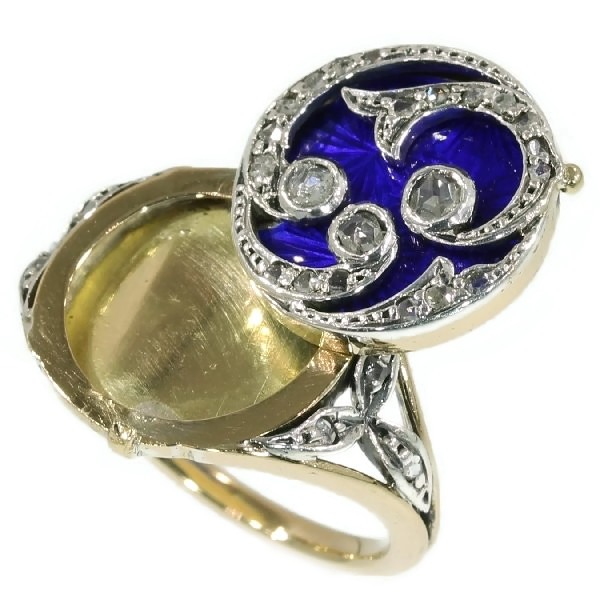 Victorian poison ring with blue enamel and rose cut diamonds with hidden place (image 11 / 18)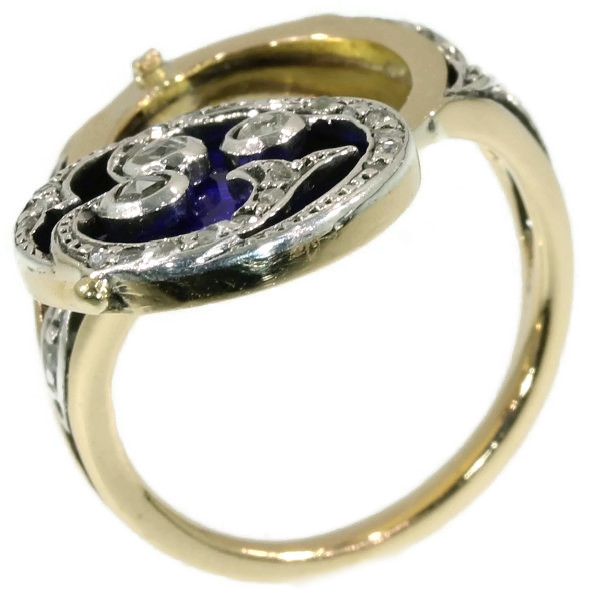 Victorian poison ring with blue enamel and rose cut diamonds with hidden place (image 12 / 18)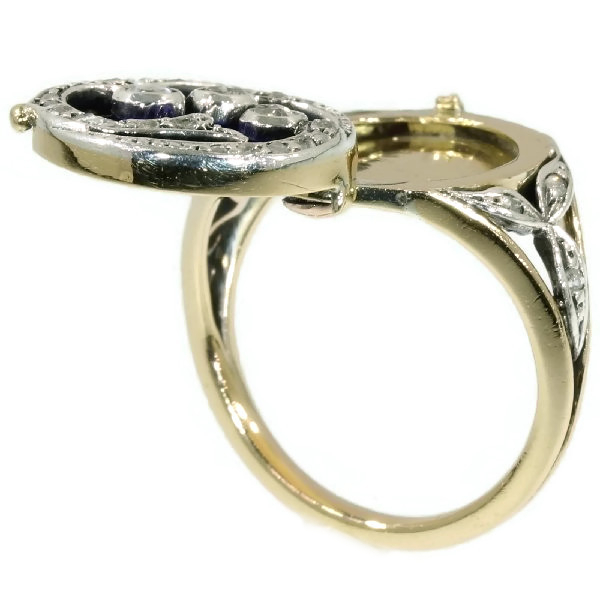 Victorian poison ring with blue enamel and rose cut diamonds with hidden place (image 13 / 18)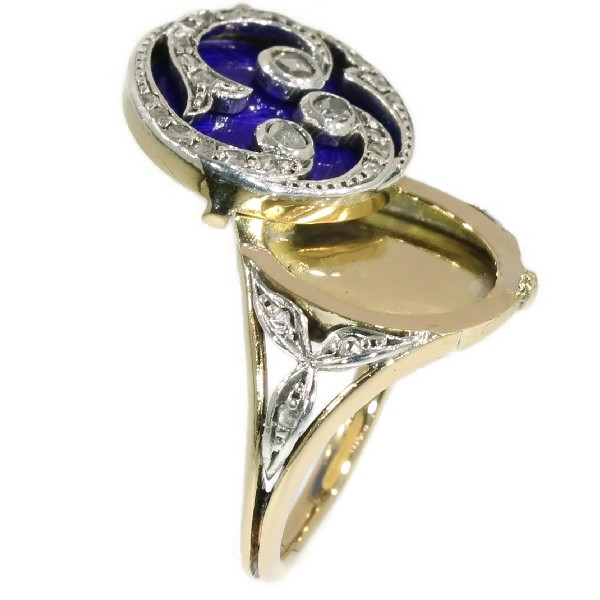 Victorian poison ring with blue enamel and rose cut diamonds with hidden place (image 14 / 18)
Victorian poison ring with blue enamel and rose cut diamonds with hidden place (image 15 / 18)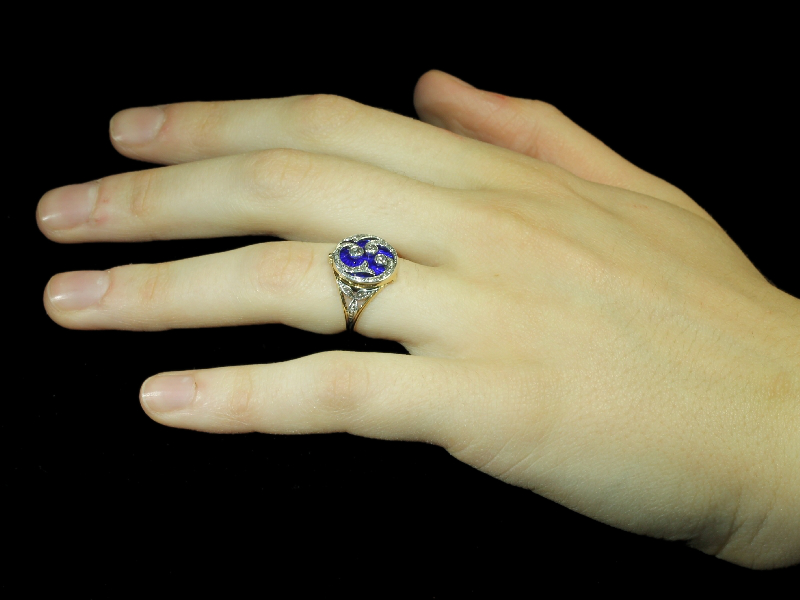 Victorian poison ring with blue enamel and rose cut diamonds with hidden place (image 16 / 18)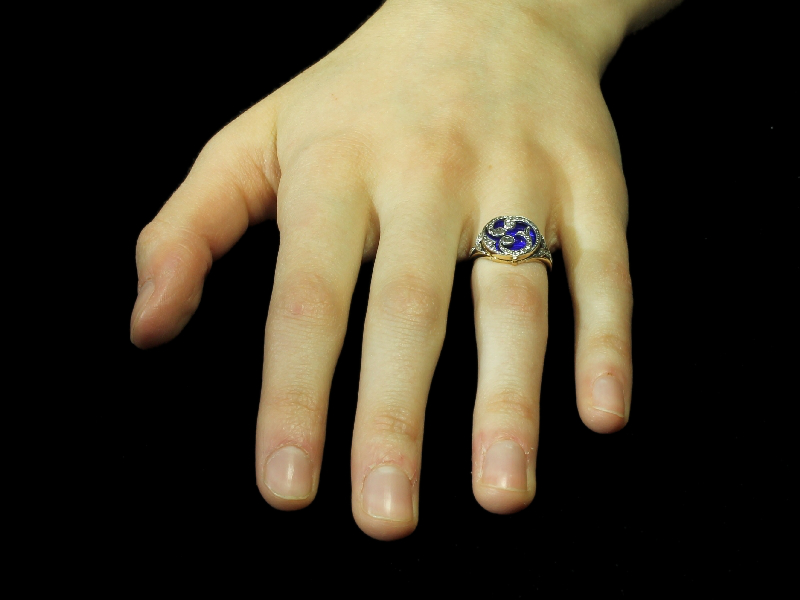 Victorian poison ring with blue enamel and rose cut diamonds with hidden place (image 17 / 18)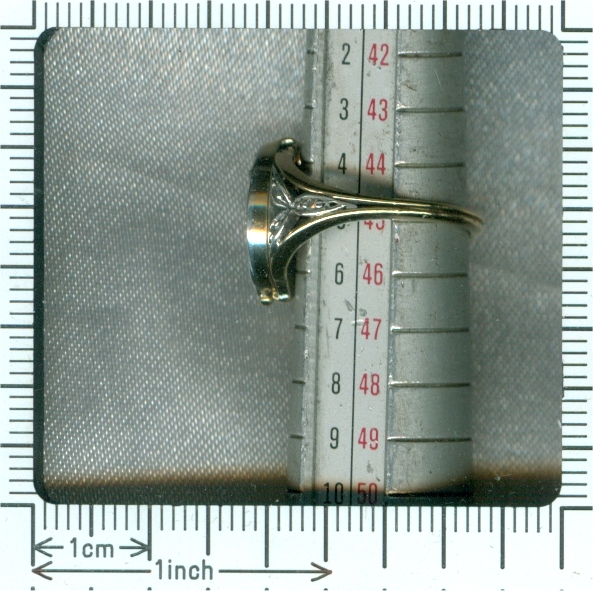 Victorian poison ring with blue enamel and rose cut diamonds with hidden place (image 18 / 18)