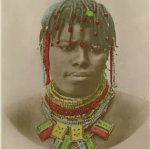 Jewellery's Dual Role:
Function and Adornment Through Time
Jewellery (also spelled jewelry) encompasses items, regardless of their material composition, used for adornment. While they can be crafted from any substance, they are predominantly constructed from gemstones and precious metals. Whether worn, pierced, or draped upon the body, their purpose is often to signify or feign one's social standing.
The term 'jewellery' is derived from 'jewel', which was anglicised from the Old French 'jouel' circa the 13th century. Further etymological exploration traces it back to the Latin 'jocale', signifying 'plaything'. Jewellery stands as one of the most ancient forms of bodily embellishment. The earliest pieces were wrought from natural materials like bone, animal teeth, shells, wood, and carved stone. It was frequently crafted for figures of notable significance to denote their stature, and they were often interred with these treasures upon their demise.
Evidently, the selection of a piece of jewellery is heavily influenced by one's cultural milieu. In certain indigenous societies, a rare bead or shell necklace might hold comparable value to that of the Cullinan diamond in our contemporary context (just to name-drop a particularly sparkly gem.).