Art Deco jewelry
(1915-1930)
Adin has a beautiful vintage Art Deco style jewelry collection. Buy some engagement rings, earrings, a brooch, necklace, bracelet or other jewellery.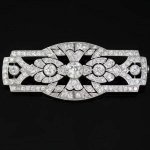 See our: Art Deco jewelry.
The Art Deco style is a very famous and popular art movement that had a lot influence in the world of jewelry. Art Deco was introduced in the 1920s as protest against the Art Nouveau style. Art Deco ended in the 1930s. The style emphasized a very abstract design with geometric patterns and as most favorite colors: black (onyx), blue (sapphire), green (emerald), white (diamond) and red (coral). The baguette and emerald-cuts, which had been developed in the nineteenth century, where very popular in the 1920s because they blended so much with the geometrical lines of the Art Deco style jewelry.
Most of the antique Art Deco jewelry has a very luxury design. This is because of the large amount of money that was made in the war of 1914. All this money gave the opportunity to buy the best fashionable materials like: diamonds, platinum, red gold and yellow gold for the design of the Art Deco jewelry. Of course there are a lot of beautiful but less expensive Art Deco style jewellery. Years later in the 1960s and 1970s Art Deco came back as a very popular decorative art. Even nowadays you can see that Art Deco style has great influence in many of today's designs.
History of Art Deco
After the Universal Exposition of 1900, various French artists formed a formal collective known as, La Société des artistes décorateurs (the society of the decorator artists). Founders included Hector Guimard, Eugène Grasset, Raoul Lachenal, Paul Follot, Maurice Dufrene, and Emile Decour. These artists heavily influenced the principles of Art Deco as a whole. This society's purpose was to demonstrate French decorative art's leading position and evolution internationally. They organized the 1925 Exposition Internationale des Arts Décoratifs et Industriels Modernes (International Exposition of Modern Industrial and Decorative Art), which would feature French art and business interests. Russian artist Vadim Meller was awarded a gold medal for his scenic design there.
The initial movement was called Style Moderne. The term Art Deco was derived from the Exposition of 1925, though it was not until the late 1960s that this term was coined by art historian Bevis Hillier, and popularized by his 1968 book Art Deco of the 20s and 30s. In the summer of 1969, Hillier conceived organizing an exhibition called Art Deco at the Minneapolis Institute of Arts, which took place from July to September 1971. After this event, interest in Art Deco peaked with the publication of Hillier's 1971 book The World of Art Deco, a record of the exhibition.
We are most proud of our beautiful collection, which contains a large number of Art Deco style jewellery in various price ranges, all of them in a very good condition. Adin invites you to take a trip in the 1920's Art Deco style jewelry. Check out our catalogue for vintage or antique Art Deco engagement rings, an eternity ring, a brooch, a necklace or a bracelet from the Art Deco period.
Want to know more about antique jewelry styles? Go to our antique jewelry style overview.