Antique jewelry:
design, fashion, commissioners, users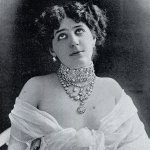 Over the years it was royalty who commissioned and set trends for the different fashions obediently followed by the nobility and bourgeoisie.
The church too was a very important commissioner, although more for silversmiths than for goldsmiths. In the second half of the 20th century the fading of the system of the rich commissioners becomes one of the foremost reasons for the loss of the "haute jouallerie".
Many of the big names like Cartier, Boucheron, Tiffany's and Van Cleef & Arpels nowadays still boast of the fame they had the first half of the 20th century as "haute jouallerie". However they rarely come up with spectacular jewellery as in the days of old. Fine jewellery is now more a case of setting large quantities of diamonds in a piece rather then aiming for a subtle and exquisite design.
The council of Rome (at around 1960) unintentional was one of the major reasons for the loss of the art of silversmiths. Being the silversmiths biggest commissioner the council decided that the service could do with less frills.