Antique jewelry:
fakes, forgeries and counterfeits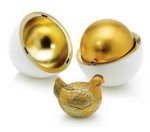 Not everything known as fake is actually a fake. There are many kinds of fakes that have an intrinsic value of their own, take the original Russian silver object that may have a fake Fabergé mark. This could be a very old and high quality piece, but Fabergé simply did not make it.
There is also style counterfeiting. At the end of the 19th Century for instance tabacco boxes were produced imitating antique styles. These carried hallmarks that also looked old in a prominent position with the official and legally required hallmarks hidden somewhere discrete. These were exported to Britain and sold as antiques. These themselves, have recently become antique and even collectors' items.
Faking of metals is quite common. Silver or gold plate, rolled or simply coloured sometimes even accompanied by the hallmarks of the 'real thing'. However, you can start to wonder about it when a piece 'protesteth too loud'.
For as long as people pay high prices for real precious stones, fake gems (synthetic gemstones) are made too; the use of imitation gems is as old as the use of their 'real' counterparts. Strass, glass, synthetic or semi-precious stones are used to give an impression of 'the real thing'.
This heading should also mention the duty dodgers. Silversmiths who made a small silver plate and gave it in to be hallmarked where they paid for the mark according to the weight of the piece (as is the case still today). These plates could then be used as a base for a much heavier piece. It doesn't necessarily question the integrity of the rest of the object or its content.
Want to know more about a specific subject? Click here to get to our glossary.