Birth stones September:
sapphire & lapis lazuli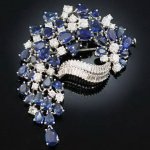 See our: sapphire jewelry.
See our: lapis lazuli jewelry.
Characteristics attributed to people born in September:
suave and compromising
careful, cautious and organised
likes to point out people's mistakes
likes to criticize
quiet but able to talk well
calm and cool
kind and sympathetic
concerned and detailed
trustworthy, loyal and honest
does work well
sensitive
thinking
good memory
clever and knowledgeable
loves to look for information
must control oneself when criticising
able to motivate oneself
understanding
secretive
loves sports, leisure and travelling
hardly shows emotions
tends to bottle up feelings
choosy especially in relationships
loves wide things
systematic
To learn more about precious stones and their ascription, click here.