Antique jewelry glossary
Welcome to our extensive antique jewelry glossary with around 1,500 jewelry related entries.If you feel you are missing an explanation, feel free to let us know and we will add it.
A - B - C - D - E - F - G - H - I - J - K - L - M - N - O - P - Q - R - S - T - U - V - W - X - Y - Z all
The four leaf clover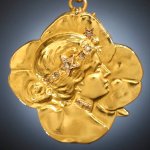 See our: four leaf clover jewelry or our luck jewelry.
The four-leaf clover is an uncommon variation of the common three-leaf clover. According to superstition, such leaves bring good luck to their finders, especially if found accidentally.
It has been estimated that there are approximately 10,000 three-leaf clovers for every four-leaf clover.
According to legend, each leaflet represents something: the first is for hope, the second is for faith, the third is for love, and the fourth is for luck. Legend also holds that if a lady hangs a 4-leaf clover on her door, the next man to come in will become her husband.