Antique jewelry glossary
Welcome to our extensive antique jewelry glossary with around 1,500 jewelry related entries.If you feel you are missing an explanation, feel free to let us know and we will add it.
A - B - C - D - E - F - G - H - I - J - K - L - M - N - O - P - Q - R - S - T - U - V - W - X - Y - Z all
Dragon jewelry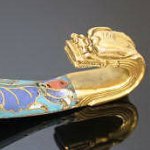 See our: dragon (griffin) jewelry or our mythological jewelry.
Articles of jewelry whose principal decorative motif is the representation of a dragon, a fabulous animal in the form of a large winged and scaly lizard with large claws. A related piece depicted a sea dragon, having a fishtail instead of claws.
Examples were made of jade in China; some Renaissance examples are often in the form of a baroque pearl jewel with the pearl forming the body and with the head and claws (or tail) of gold with coloured enamelling and set with gemstones. The dragon was usually a decorative motif on a pendant but sometimes ornamented a toothpick.
Dragon
Chuang Tzu taught that the power of the dragon is a mysterious thing. It is the resolution of opposites. This is why, he said, Confucius dwelt in Lao-Tzu, the very personification of the dragon. In any case, while dragons may confer immortality, Chinese dragons take you to it, since they are the winged steeds of the Immortals, too.
Thanks to a dragon Yu the Great was able to set the world to rights by draining off the over abundant waters. The dragon was sent to him from Heaven and 'opened the way' for him. It was quite natural for the dragon, a celestial, creative and law-giving power, to become the symbol of the Emperor. This is how they became an imperial emblem.
Because dragons and griffins may get confused we also have an explanation on griffins.