Antique jewelry glossary
Welcome to our extensive antique jewelry glossary with around 1,500 jewelry related entries.If you feel you are missing an explanation, feel free to let us know and we will add it.
A - B - C - D - E - F - G - H - I - J - K - L - M - N - O - P - Q - R - S - T - U - V - W - X - Y - Z all
Drop pearl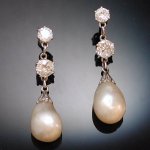 See our: pearl jewelry.
A type of pearl that is drop-shaped (although often called 'pear-shaped').
Such pearls are frequently used suspended from a pendant or brooch, singly or in threes, or from an earring. They are sometimes Chinese drilled, to be sewn on a garment.
From: An Illustrated Dictionary of Jewelry, autor: Harold Newman, publishers: Thames and Hudson