Antique jewelry glossary
Welcome to our extensive antique jewelry glossary with around 1,500 jewelry related entries.If you feel you are missing an explanation, feel free to let us know and we will add it.
A - B - C - D - E - F - G - H - I - J - K - L - M - N - O - P - Q - R - S - T - U - V - W - X - Y - Z all
Ferronière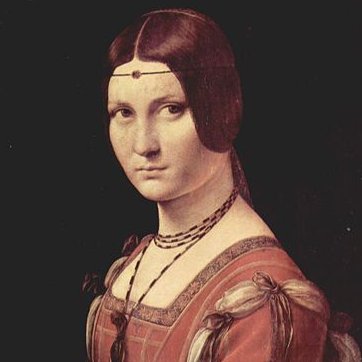 Ferronière, French for "ironwork". A type of forehead ornament in the form of a band worn around a woman's forehead and ornamented with a jewel in the centre. They were of Italian origin, worn in the 15th century in the form of a silken cord or velvet ribbon knotted at the back of the head.
The style was revived in the early 19th century when the band was in the form of a fine gold chain or sometimes a string of beads, but was abandoned when hairstyles made it unsuitable.
The term is said to be derived from a portrait ascribed to Leonardo da Vinci and in the Louvre, portraying a lady wearing such a jewelled band; she was once thought to have been a blacksmith's wife (ferronière) greatly admired by Francis I, but now is generally considered to be Lucretia Crivelli, the mistress of Ludovico Moro, Duke of Milan.
A later version of the ferronière had two additional pendants hanging at the temples.
From: An Illustrated Dictionary of Jewelry, autor: Harold Newman, publishers: Thames and Hudson