Antique jewelry glossary
Welcome to our extensive antique jewelry glossary with around 1,500 jewelry related entries.If you feel you are missing an explanation, feel free to let us know and we will add it.
A - B - C - D - E - F - G - H - I - J - K - L - M - N - O - P - Q - R - S - T - U - V - W - X - Y - Z all
Garnet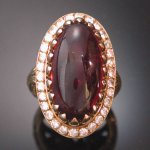 See our: garnet jewelry.
Garnet Is a group of minerals that includes six main varieties of gemstones, closely related as to chemical composition, some varieties being so close as to be difficult to differentiate.The traditional colour is dark red, but the stones are found in many colours and shades, depending on the chemical composition.
The principal varieties are:
grossular (hessonite, rosolite)
pyrope (rhodolite)
andradit (demantoid)
melanite (topazolite)
spessartite
uvarovite
Formerly the stones were cut en cabochon, but today they are faceted either step cut or mixed cut.
Garnets were used by the Egyptians, Greeks, Romans, and Celts, often cut into thin slices and inlaid, as in cloisonné inlay. When red garnets were mounted in Anglo-Saxon jewelry or Victorian jewelry, they were usually backed with gold or silver foil. Local misnomers applied to garnet are 'Cape Ruby' and 'Bohemian Ruby'.
From: An Illustrated Dictionary of Jewelry, autor: Harold Newman, publishers: Thames and Hudson