Antique jewelry glossary
Welcome to our extensive antique jewelry glossary with around 1,500 jewelry related entries.If you feel you are missing an explanation, feel free to let us know and we will add it.
A - B - C - D - E - F - G - H - I - J - K - L - M - N - O - P - Q - R - S - T - U - V - W - X - Y - Z all
Heart shape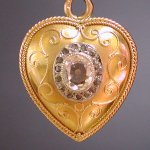 See our: heart shape jewelry.
In Egypt, the heart was a symbol for life and the place where the feelings and the intellect are established.
For the Chinese is the heart (sjin) the symbol for reason and feeling. It's one of the eight valuable organs from Buddha. In the West the heart symbolizes in the first place fieriness and love.
The heart has long been used as a symbol to refer to the spiritual, emotional, moral, and in the past also intellectual core of a human being. As the heart was once widely believed to be the seat of the human mind, the word heart continues to be used poetically to refer to the soul, and stylized depictions of hearts are extremely prevalent symbols representing love.
The heart shape is a very popular shape for many types of jewelry, including the brooch, pendant, locket, charm, etc. Such pieces are made of gold, silver, and other metals, decorated with enamelling, gemstones or pearls.
The heart brooch is a type of brooch in the shape of the outline of a heart, or sometimes two adjacent or interlocking hearts, and having a transverse or vertical pin. Such brooches made of gold or silver, were constructed in the 14th and 15th centuries, being given as love tokens, some having an amatory inscription on the front or the reverse.