Antique jewelry glossary
Welcome to our extensive antique jewelry glossary with around 1,500 jewelry related entries.If you feel you are missing an explanation, feel free to let us know and we will add it.
A - B - C - D - E - F - G - H - I - J - K - L - M - N - O - P - Q - R - S - T - U - V - W - X - Y - Z all
Jewish marriage ring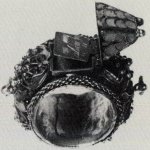 A type of finger ring used at a Jewish wedding ceremony on the Continent, by being placed by the groom on the middle finger of the bride's right hand, and not intended to be worn thereafter but preserved by the family or the congregation. The early examples, made in Venice in the 16th century, have a wide band and mounted on the BEZEL a model of a building with a cupola or high roof, said to represent a synagogue or a symbol of the marital home.
Later they were decorated with filigree and granulated gold, and some with enamelling but not gemstones. Some examples have a high-gabled roof and pierced windows, occasionally with a movable weathervane at the peak. Hidden within the bezel or inscribed inside the band are the Hebrew words Mazal Toy (Good Luck) or the Hebrew initials of these words. Some rings also depict on the hoop biblical scenes or symbols. The rings were usually made of gold, but later ones are of silver or gilded metal.
Known examples are from Germany or Venice from the 16th and 17th centuries, but earlier ones are said to have existed. A few such rings were made as a LOCKET, with the building on the bezel hinged to cover a space for concealing some token. In England there is no record of such rings being used, but instead a plain hoop of gold (or other metal) without a gemstone but with a Hebrew inscription.
From: An Illustrated Dictionary of Jewelry, autor: Harold Newman, publishers: Thames and Hudson