Antique jewelry glossary
Welcome to our extensive antique jewelry glossary with around 1,500 jewelry related entries.If you feel you are missing an explanation, feel free to let us know and we will add it.
A - B - C - D - E - F - G - H - I - J - K - L - M - N - O - P - Q - R - S - T - U - V - W - X - Y - Z all
Onyx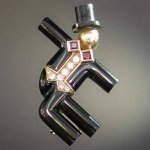 See our: onyx jewelry.
The onyx stone is a variety of the black chalcedony. It is a very porous stone and is composed of parallel straight layers of different shades of black and white, making it suitable for cutting as a cameo.
If only the white material is used, than we talk about a white onyx stone. Almost all the onyx stones are artificially colored, not only to enhance the colors but also to emphasize the zonal structure, examples have been coloured deeper black, and also blue, green, and red.
Onyx means 'Finger nail' in the ancient Greek language.