Antique jewelry glossary
Welcome to our extensive antique jewelry glossary with around 1,500 jewelry related entries.If you feel you are missing an explanation, feel free to let us know and we will add it.
A - B - C - D - E - F - G - H - I - J - K - L - M - N - O - P - Q - R - S - T - U - V - W - X - Y - Z all
Plus qu'hier et moins que demain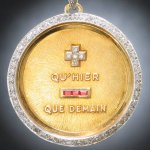 See our: "+ qu'hier - que demain" jewelry.
In jewelry mostly written as:
"+ qu'hier - que demain"
This sentence is inspired by a beautiful and romantic French poem by Rosemonde Gérard called 'Les Vieux', which was intended for Edmond Rostand.
It comes from the sentence
'Et, comme chaque jour je t'aime davantage, Aujourd'hui plus qu'hier et bien moins que demain'
meaning:
'And because I love you more and more each day, today more than yesterday but less than tomorrow'.
This jewel became very popular and is still considered today as a token of love. Most of the times the plus and the minus sign are ornated with little diamonds and (lab-) produced rubies.