Antique jewelry glossary
Welcome to our extensive antique jewelry glossary with around 1,500 jewelry related entries.If you feel you are missing an explanation, feel free to let us know and we will add it.
A - B - C - D - E - F - G - H - I - J - K - L - M - N - O - P - Q - R - S - T - U - V - W - X - Y - Z all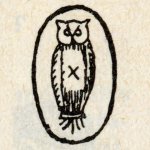 Hallmarks:
owl
The hallmark depicted here is a French hallmark that was struck in jewelry in finished condition that were brought to be examined by the French assay office. Therefore one cannot be sure of the origin of a piece of jewelry with this hallmark. It has been used since 1893.
For pieces brought to be hallmarked in an unfinished condition the eagle's head or dog's head was used.
See our: jewelry with the owl hallmark.