Antique jewelry glossary
Welcome to our extensive antique jewelry glossary with around 1,500 jewelry related entries.If you feel you are missing an explanation, feel free to let us know and we will add it.
A - B - C - D - E - F - G - H - I - J - K - L - M - N - O - P - Q - R - S - T - U - V - W - X - Y - Z all
Vercingetorix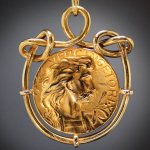 See our: mythological jewelry.
>
Vercingetorix, died 46 BC after six years of captivity in Rome, was chieftain of the Arverni, originating from the Arvernian city of Gergovia and known as the man who led the Gauls in their ultimately unsuccessful war against Roman rule under Julius Caesar.
Known primarily through Caesar's accounts, Vercingetorix's revolt is frequently used as a heroic example of Gallic virtue and resolve.