Antique jewelry glossary
Welcome to our extensive antique jewelry glossary with around 1,500 jewelry related entries.If you feel you are missing an explanation, feel free to let us know and we will add it.
A - B - C - D - E - F - G - H - I - J - K - L - M - N - O - P - Q - R - S - T - U - V - W - X - Y - Z all
Werewolf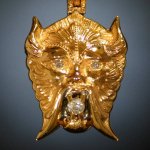 See our: mythological jewelry.
Half man half animal, werewolves became famous across medieval Europe.
In Sicily, for example, one believed that a child that was created during a new moon was bound to become a werewolf.
Siberian tales created werewolves from people who drank water collected in wolf footprints.
All Grecian epileptics were thought to be werewolves.
The Romans believed that werewolves could not be shot, thinking their skin was somehow bulletproof. The belief in werewolves was so strong that bandits wore wolf skins to prevent being shot at by local peasants.