Antique jewelry glossary
Welcome to our extensive antique jewelry glossary with around 1,500 jewelry related entries.If you feel you are missing an explanation, feel free to let us know and we will add it.
A - B - C - D - E - F - G - H - I - J - K - L - M - N - O - P - Q - R - S - T - U - V - W - X - Y - Z all
Lotus flower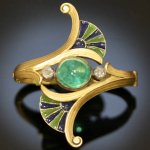 See our: lotus flower jewelry.
This might be called the first of all flowers, generally blossoming on stagnant waters with a perfection so sensual and imperious, that it is not difficult to imagine the lotus as the very first sign of life upon the vastness of the primeval waters. Its symbolism is infinite.
In the land of the Pharaohs, where it was regarded as the holiest of flowers, 'the blue lotus' suggested the perfume of divine life. On the walls of the tombs at Thebes, the living and dead of a family are shown smelling the blue flower in an attitude of delight and inspired by the magic of rebirth.
See also: flower symbolism